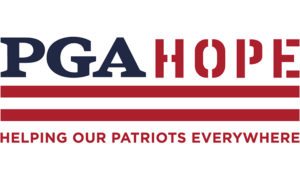 Kentucky's PGA HOPE program at Quail Chase Golf Course provides all Veterans with FREE golf instruction taught by local PGA Professionals.  The HOPE program is designed to provide golf as a therapeutic rehabilitation tool for all military Veterans. The lifetime sport of golf has proven to be an excellent outlet for activity and competition, but also allows Veterans to assimilate back into their community through the social interaction the game provides.  The program consists of seven 90-minute sessions that begin at 4 pm.  Sessions include instruction, camaraderie and playing opportunities.
Click here to register or call (502) 243-8295
Schedule of Events
Attendance at all sessions is not required. Come as often as you can!
Session # 1 (Introduction) – Wednesday, July 11th – 4:00 pm – 5:30 pm
Session # 2 – Wednesday, July 18th – 4:00 pm – 5:30 pm
Session # 3 – Wednesday, July 25th – 4:00 pm – 5:30 pm
Session # 4 – Wednesday, August 1st – 4:00 pm – 5:30 pm
Session # 5 – Wednesday, August 8th – 4:00 pm – 5:30 pm
Session # 6 – Wednesday, August 15th – 4:00 pm – 5:30 pm
Session # 7 (Graduation)– Wednesday, August 22nd – 4:00 pm – 5:30 pm