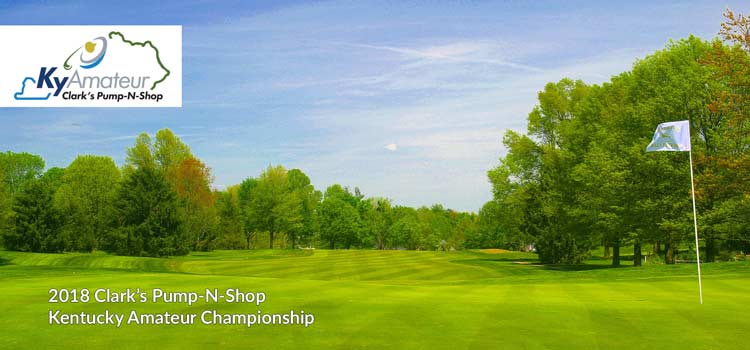 On June 19th – 21st, one of the oldest amateur events in the country heads to Hunting Creek Country Club in Prospect, Kentucky for the 104th Clark's Pump-N-Shop Kentucky Amateur Championship. The club is hosting the Kentucky Amateur for the third time, having previously hosted the championship in 1969 and 2002.
Related Links: Tournament Homepage | Rounds 1 & 2 Pairings | Past Champions
About the Course: Founded in 1964, Hunting Creek is nestled among gently rolling hills on a bluff south of the Ohio River in historic Prospect, Kentucky. Designed by architect Ben Wihry, it is noted as one of the most beautiful courses in the state. No two holes on the course adjoin, which allows for tree-lined fairways and gives the course its "out in the country" feel.
Player Storylines:
A total of 156 players will begin their quest for the 104th Clark's Pump-N-Shop Kentucky Amateur Championship. 118 players earned their way to Hunting Creek Country Club by qualifying at one of eleven sites across the state, and 38 players were exempt based on previous accomplishments.
A total of 3 past Kentucky Amateur Champions are in the field. They are:
– Andy Roberts, Owensboro CC – 2016 Champion
– Tom Campbell, Audubon CC – 2014 Champion
– Buddy Bryant, Keene Trace GC – 1996 and 1998 Champion
Last year's champion: Tyler (Chip) McDaniel of Big Hickory G & CC will not be defending his title in 2018, but will be making his PGA Tour debut this July at the Barbasol Championship at Champions at Keene Trace GC on July 16-22. McDaniel, along with 2017 Kentucky Open Champion Cooper Musselman were granted sponsor exemptions to compete in Kentucky's first PGA Tour event since 1959. McDaniel shot a total of 201 (-15) last year, and set a new scoring record for the Clark's Pump-N-Shop Kentucky Amateur.
Following in Footsteps: The last time Hunting Creek hosted the Kentucky Amateur, J.B. Holmes of Campbellsville Country Club captured the title with a score of 213 (-3). After winning the Kentucky Amateur, Holmes has gone on to win four times on the PGA Tour and was a key player in the United States' victory in the 2008 Ryder Cup at Valhalla Golf Club.
A total of four former KHSAA (Kentucky High School Athletic Associations) State Individual Champions are in the field. They are:
– Buddy Bryant, Keene Trace GC – 1980 Champion
– Ben Fuqua, Danville CC – 2003 Champion
– Fred Allen Meyer, Keene Trace GC – 2012 and 2013 Champion
– C.J. Jones, University of Louisville GC – 2015 Champion
2017 John Owens Player of the Year Denver Haddix, Jr. of Kearney Hill Golf Links is seeking to capture his first Kentucky Amateur title, having finished runner-up in 2014, 2015 and 2016. Haddix, Jr. won the 2017 KGA Match Play Championship and qualified for the U.S. Mid-Amateur Championship en-route to his Player of the Year title.
A total of seven players are representing the host club in the 2018 Kentucky Amateur and are seeking to become the first player since 1997 (Bill Sergent – Crooked Creek) to win the Kentucky Amateur at their home course. They are: William Boyd, Chris Gilles, Luke Sears, Brad Spalding, Britt Stevenson, Bruce Stigger, and Justin Walker.
Brady Howell of Keene Trace GC is playing in his first Kentucky Amateur but is no stranger to the big stage. Last year, he captured the Kentucky Junior PGA Championship and will be joining the University of Kentucky's Division I golf team this fall.
Four current college coaches (three Head Coaches & one Assistant Coach)  are in the field and are seeking to capture their first Kentucky Amateur title:
– Taylor Riggs, Nevel Meade GC – Head Coach, University of the Cumberlands
– Justin Tereshko, Eclub Kentucky – Head Coach, Guilford College
– Matthew Martin, Greenbrier G & CC – Head Coach, Morehead State University
– Ben Fuqua, Danville CC – Assistant Coach, University of Kentucky
Justin Tereshko of Eclub Kentucky advanced to the round of 32 in the 2014 U.S. Amateur at Atlanta Athletic Club. He defeated current PGA Tour Player Xander Schauffele in the round of 64 by a margin of 7&6.
Nick Wilkins of Juniper Hill GC, who will be a rising senior at Moorehead State University, was the 2018 Ohio Valley Conference individual champion.
Social Media:
In addition to full championship coverage on our website at kygolf.org, players and spectators can join the conversation using the hashtag #KYAmateur.
– Like Us on Facebook at Facebook.com/GolfHouseKY
– Follow us on Twitter and Instagram @GolfHouseKY
– Championship Photos on our Flickr page – Flickr.com/kygolf
Schedule of Events:
Tuesday, June 19th – First Round of Stroke Play – 18 Holes
Wednesday, June 20th- Second Round of Stroke Play – 18 Holes
*The low 70 players including ties will advance to the final round on Thursday, June 21st
Thursday, June 21st – Final Round of Stroke Play – 18 Holes
Championship Scorecard:
Total Yardage: 7,157 yards / Par 72. USGA Course Rating is 75.0; Slope Rating is 140.
| | | | | | | | | | | |
| --- | --- | --- | --- | --- | --- | --- | --- | --- | --- | --- |
| Hole # |  1 |  2 |  3 |  4 |  5 |  6 |  7 |  8 |  9 | Total |
|  Yards | 414 | 198 | 517 | 455 | 374 | 557 | 211 | 471 | 429 | 3,626 |
|  Par | 4 | 3 | 5 | 4 | 4 | 5 | 3 | 4 | 4 | 36 |
| | | | | | | | | | | |
| --- | --- | --- | --- | --- | --- | --- | --- | --- | --- | --- |
| Hole # | 10 | 11 | 12 | 13 | 14 | 15 | 16 | 17 | 18 | Total |
| Yards | 402 | 509 | 162 | 456 | 434 | 565 | 375 | 175 | 453 | 3,531 |
| Par | 4 | 5 | 3 | 4 | 4 | 5 | 4 | 3 | 4 | 36 |