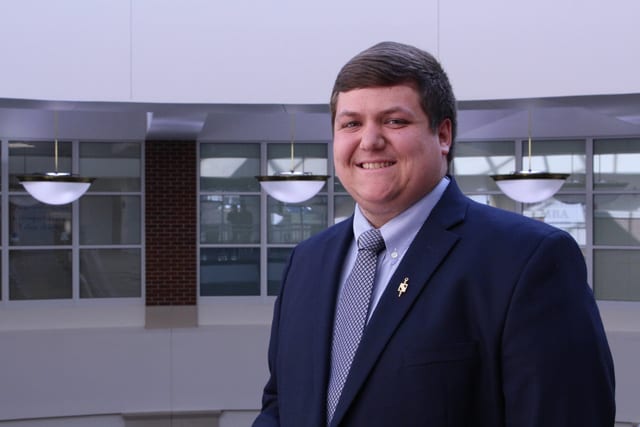 Golf House Kentucky is proud to announce Raymond Moehlman as the new Director of Junior Golf. Moehlman will oversee the operation of the organization's state-wide junior program, which includes the Kentucky PGA Junior Tour, the Kentucky PGA Junior Championship, the Kentucky Junior Amateur, and Middle School and High School State Championships.
"I am extremely excited to accept the role of Director, Junior Golf at Golf House Kentucky," said Moehlman. "As a Kentucky native, who grew up playing junior golf tournaments, I cannot wait to join the team and continue my passion as a PGA Golf Professional by leading the premier junior golf program in the Commonwealth. I look forward to not only serving but creating a prestigious tournament experience for Kentucky junior golfers and their families."
A Class A PGA Member, Moehlman graduated from Eastern Kentucky University's Professional Golf Management program. He earned the distinguished College of Business Dean's Award and graduated at the top of his class. During his time at EKU, Moehlman interned for the The Camargo Club, PGA Championships Department, the Southern Ohio PGA Section and Valhalla Golf Club. During his internship with the PGA Championships Department, Moehlman helped to conduct both the Boys and Girls Junior PGA Championships. While at Valhalla Golf Club, he had an active role and an instructor and mentor in the junior golf program. He also worked as Assistant Golf Professional at University of Louisville Golf Club last year.
This past season, he has served as the Tournament Director for the Southern Ohio PGA Section, where he was responsible for conducting all of the section, chapter and playing ability tests for over 500 PGA members and Associates. He also assisted in conducting the Southern Ohio PGA's junior tournament schedule throughout the year.
"With his past experience at both a section and national level, Ray brings a unique combination of skills and knowledge to Kentucky," said Brent Paladino, Executive Director. "He is passionate about providing a positive experience for junior golfers and their families, and I am confident he will be a tremendous addition to our team."
Moehlman will officially begin at Golf House Kentucky on December 17th. The 2019 Kentucky PGA Junior Tour schedule is in the planning stages and will be published in early January. Registration for membership and all junior tour events will begin on February 1st via the Golf House Kentucky website at kygolf.org.
Golf House Kentucky is also hiring for seasonal junior golf positions for the 2019 season. For more information and to apply, please see the links below:
Junior Programs Coordinator, Golf House Kentucky (Full Time, Seasonal)
P.J. Boatwright Junior Golf Internship (3-month and 5-month positions)
About Golf House Kentucky
Golf House Kentucky is the umbrella organization for Kentucky's Family of Golf Organizations: Kentucky Golf Association, Kentucky PGA and Kentucky Golf Foundation.  The vision of Kentucky's golf leaders, Golf House Kentucky was founded in 1978, and is headquartered in a picturesque country setting in Louisville, Kentucky.  Golf House Kentucky conducts competitions for golfers of all ages, gender and skill levels (amateur and professional), and provides valuable services to Kentucky PGA professionals and member golf facilities.  Working in partnership with the USGA, Golf House Kentucky provides individual golfers and member golf facilities with a wide range of services: Handicapping, USGA Course and Slope Rating, award programs, club consulting and golf management software.  The family's philanthropic affiliate, Kentucky Golf Foundation promotes the Kentucky Golf Hall of Fame, Kentucky golf museum and provides grant and scholarship programs for youth in the Commonwealth of Kentucky.