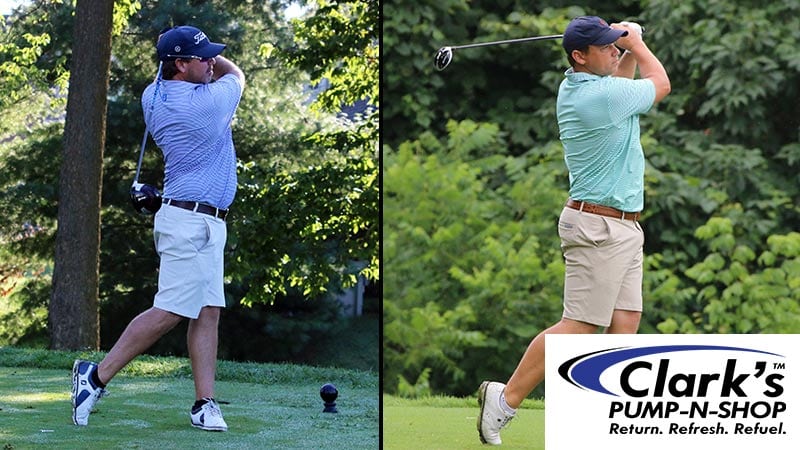 Links: Round One Results | Round Two Starting Times
Joseph Deraney of Lexington and Andy Roberts of Owensboro both shot rounds of two under-par 70 to take the overnight lead at the 2018 Clark's Pump-N-Shop Kentucky Mid-Amateur. Pete Cornett, Tony Wise, Steve Humphries and Dennis Long all have the lead in their respective divisions. The Kentucky Mid-Amateur is open to all players ages 25 and over and is being contested on October 1st and 2nd at Traditions Golf Club in Hebron, KY.
Deraney, who is the two-time defending champion of the Kentucky Mid-Amateur, opened up his quest for a three-peat with a solid round that featured four birdies and a lone double-bogey on the 13th hole. Despite the hiccup, he rebounded with a birdie on the 16th hole to grab a share of the lead. Deraney is hoping to cap off a remarkable summer in which he won the Canadian Mid-Amateur Championship this past August. Deraney shot a final round 65 in that event to win by three strokes and earn an exemption into the 2019 PGA Tour RBC Canadian Open.
Deraney currently leads the John Owens KGA Player of the Year and would clinch the title with a victory tomorrow. He leads by 114 points over Eric King of Lexington, who shot 77 in his opening round.
Tied with Deraney atop the leaderboard is Roberts, who also opened his quest for the 2018 Mid-Amateur with a round of 70. Roberts, also a two-time champion of the event (2008 and 2010), played steady throughout his opening round, making four birdies and two bogies to finish at two under-par. Roberts has also been playing well as of late, having just qualified for the 2019 U.S. Amateur Four-Ball Championship with fellow KGA member Rob Crockett of Louisville.
Sitting just one stroke behind Deraney and Roberts is Justin Tereshko of Lexington, who was the only other player to break par in the Championship Division. Tereshko lost in a playoff earlier this year at the Clark's Pump-N-Shop Kentucky Amateur at Hunting Creek CC and is seeking to capture his first Kentucky Mid-Amateur title.
Aside from the Mid-Amateur Championship division, there are three other divisions being contested – the Mid-Senior Division (ages 40-49), the Senior Division (ages 50-59) and Masters Division (ages 60+). In the Mid-Senior Division, Pete Cornett of Loyall and Tony Wise of Georgetown both shot rounds of 71 to share the lead, while Steve Humphries of Georgetown shot an even-par 72 to lead the Senior Division and Dennis Long of Shelbyville shot an even-par 72 to lead the Masters Division.
The final round of the 2018 Clark's Pump-N-Shop Kentucky Mid-Amateur begins at 9:00 a.m., with the leaders in the Mid-Amateur Division teeing off at 12:10 p.m. Live hole-by-hole scoring will be available at kygolf.org.
About the Kentucky Golf Association
The Kentucky Golf Association (KGA) is recognized by the USGA as the governing body for amateur golf in the Commonwealth.  Founded in 1911, the KGA is a full service golf association comprised of over 180 member golf courses.  The KGA is governed by a volunteer Board of Directors made up of representatives from course across Kentucky. The KGA serves and fulfills many roles for golf in Kentucky.  The KGA is a founding member of Golf House Kentucky, the umbrella organization that manages Kentucky's Family of Golf Organizations.