Tournament Links: Final Results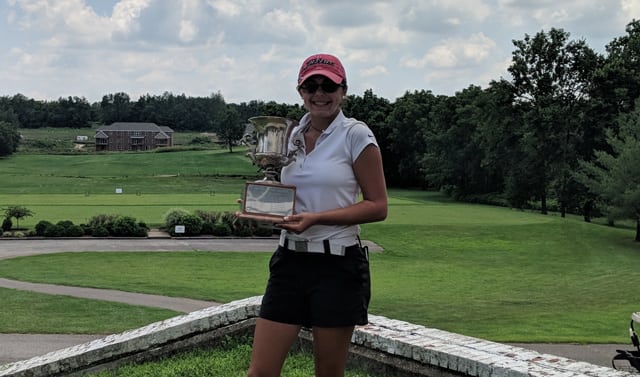 Georgetown's own Rylea Marcum captured the Overall Kentucky Girl's Junior Amateur Championship after she fired rounds of 70-68 (-6) at Cherry Blossom GC. Marcum also captured the Champion trophy in the Girls 16-18 Division and will earn an invitation to participate in the 2018 Junior PGA Championship at Kearney Hill Golf Links on July 9-12.  Marcum's 2-Day total of 138 (-6) was good enough to win by 2 shots.
The Overall Runner-Up and Girls 16-18 Division Runner-Up trophies went to Madison Smith (Union) after rounds of 69-71 to finish at 140 (-4). The Overall Champion and Runner-Up both receive an invitation to participate in the Northern Junior Amateur and Hope Valley Junior Invitational in August.
In the Girls 13-15 Contest, 2018 Junior PGA Championship Qualifier Overall Champion Laney Frye (Nicholasville) finished as the Champion. Frye's 2-Day total of 145 (+1) allowed her to edge the Runner-Up by 2 shots. Faith Martin (Rockfield) was the 13-15 Runner-Up with a 2-Day total of 147 (+3).
Molly Bebelaar (Louisville) finished 3rd Overall with a 2-Day total of 142 (-2). Laney Frye and Taylor Edlin (Prospect) finished tied for 4th Overall with a 2-Day total of 145 (+1).
In addition to the Girls Overall Contest, there was one other Division that determined a Champion and Runner-Up at the Kentucky Junior Amateur at Cherry Blossom GC. Here's a list of the winners in the remaining age group:
Girls 14 & Under Division: Lydia Harrel (Richmond) fired an opening round of 77 (+5) and held off Runner-Up Layla George (Lexington) in the final round to capture the Division Champion trophy.
Special thanks to the 74 players that participated in the 2018 Kentucky Junior Amateur. The best players in Kentucky competed against their peers and hopefully made some new friends along the way.