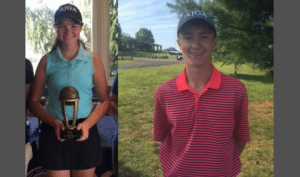 LOUISVILLE – Senior Sarah Hinton, of Elizabethtown, and junior Cooper Parks, of Campbellsville, were announced today as the Golf House Kentucky Junior Players of the Year. Players earn points based on their overall finish at events recognized as major tournaments in Kentucky. This includes tournaments conducted by Golf House Kentucky and the Kentucky PGA Junior Tour.
Hinton and Parks both earned points by having the low Overall score in the Kentucky Junior Amateur. Hinton won the Girls Junior Amateur by one shot over senior Lizzie Loy (Jamestown) while Parks advanced to a playoff as sophomore Jansen Preston (Lexington) won the Boys Junior Amateur.
Hinton scored a total of 198.5 points to top senior Ryan Bender (Louisville) who finished second with 141 points. Hinton earned 50 points by winning the Kentucky Junior Amateur and Kentucky PGA Junior Tour Championship, and earned another 40 points in the Kentucky Women's Amateur. Additional points were earned at the Women's Kentucky Open, Leachman Buick-GMC-Cadillac KHSAA State Championship, and Kentucky PGA Junior Tour Fall Classic. Hinton also received the 2017 Ms. Golf Award based on her accomplishments in High School events this fall. Hinton will continue her golf career next year at Lipscomb University.
Parks scored a total of 125.5 points to edge Preston who finished second with 120 points. In addition to advancing to a playoff at the Kentucky Junior Amateur, Parks scored 40 points by advancing at the USGA Junior Amateur Qualifier. Points were also earned through participation in the Leachman Buick-GMC-Cadillac KHSAA State Championship, Kentucky Open, and AJGA events held in Kentucky.
Both players will be recognized at the Kentucky Golf Foundation Hall of Fame Banquet on Thursday, November 9 at Hurstbourne Country Club. Jim O'Hern and Dave Peege will be inducted to the Kentucky Golf Hall of Fame at that banquet. Additional information on these awards plus a full listing of the standings may be found at https://kygolf.org/junior-golf/player-awards-and-standings/ky-junior-poy-point-standings/.
ADDITIONAL INFORMATION ABOUT SUPPORTING ORGANIZATION:
GOLF HOUSE KENTUCKY: Golf House Kentucky serves as the management organization for amateur and professional golf in Kentucky. The organization supports the Kentucky Golf Association (KGA), Kentucky PGA (KPGA), and Kentucky Golf Foundation (KGF). The mission of the KGF is to support youth programming including the Kentucky PGA Junior Tour which just completed its 24th year. More information may be found at kygolf.org.