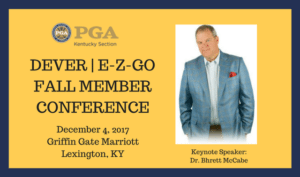 The Dever | E-Z-GO Fall Member Conference will be held at Griffin Gate Marriott in Lexington, KY, on December 4, 2017.  The Education Committee is excited to introduce the keynote speaker, Dr. Bhrett McCabe, to the KPGA Members.  Dr. McCabe is a practicing Sports & Performance Psychologist who works with numerous athletes from the PGA and LPGA Tours, NFL, NBA, MMA, and serves as the sports and performance psychologist for the University of Alabama Athletic Department. Dr. McCabe has recently authored The MindSide Manifesto: The Urgency to Create a Competitive Mindset in order to help athletes, coaches, and leaders compete to the best of their ability. Dr. McCabe has published several academic journal articles, presented numerous scientific presentations, as well as provided insight and authored articles for trade magazines such as GOLF Magazine, Golf World, Golf Week, and ESPNW, among others. Dr. McCabe has also made several appearances on The Golf Channel's Morning Drive and The Golf Fix.
Dr. Bhrett McCabe is the founder of The MindSide and a Licensed Clinical Psychologist holding a PhD degree in clinical psychology from Louisiana State University (LSU), with an emphasis in behavioral medicine having completed his internship at Brown University in Providence, RI. While an undergraduate at LSU, Dr. McCabe was a 4-year letterman on the baseball team and was a member of 2 National Championship teams, 3 SEC championship teams, and 3 College World Series teams.
Please join us for our Fall Member Conference by clicking here to register.
Registration begins at 7:30 AM.  Meeting will start at 8:00 AM. Cost: $75