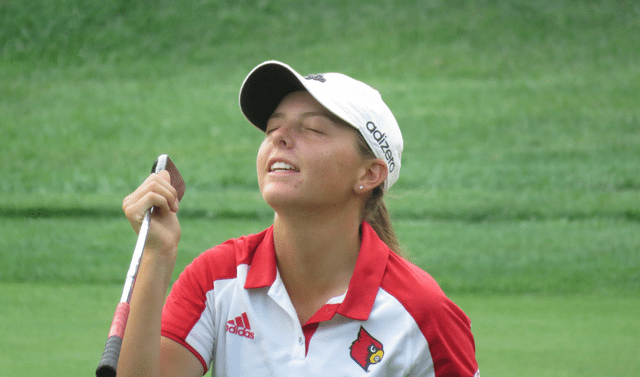 Goshen, KY – U of L junior Molly Skapik shot a career round 7-under par 64 today at Big Spring Country Club's Harmony Landing in the first round of the Kentucky Women's Open.  21-year-old Skapik of Miamiburg, OH had a near perfect round with eight birdies and a bogey.  As Skapik headed to the eighth hole she was two under par thanks to back to back birdies on holes number 3 and 4.  The next five holes are something all golfers dream of doing as she birdied each of the holes.  After another birdie on the 511 yard par 5 17th hole, Skapik was 8-under par for the day.  Unfortunately the day ended on a disappointing note as she bogeyed the finishing hole.
Seven shots behind Skapik is someone she knows well, Lauren Hartlage.  Hartlage of Elizabethtown is a fellow Cardinal.  Hartlage had a very consistent day with sixteen pars matched with one birdie and a bogey.  Joining Skapik and Hartlage in the final group of the final round will be 20-year old Meghan Nay of Canton, GA.
The field is full of great amateurs and they dominated the upper half of the field.  The lone professional in the top 25 was Amanda Dixon of Hillsboro, OH who sits tied for 8th after her opening round 76.
Other Notables in the field are Kentucky PGA Professional Sara Stephens (81), and Kentucky Golf Hall of Famer Martha Leach (75).
The final round concludes on Wednesday with the leaders starting at approximately 11:00 am.  The championship is open to the public and complimentary.