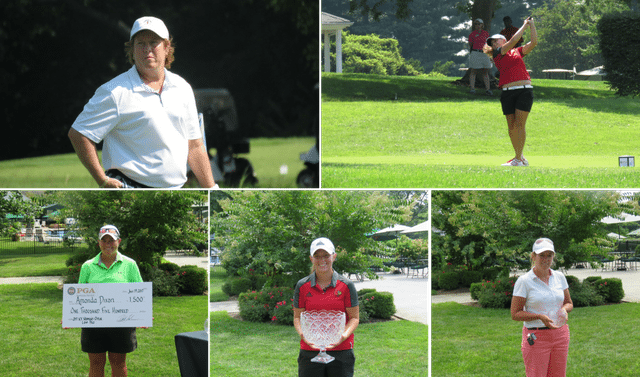 Goshen, KY – 21-year old Molly Skapik easily could have felt a lot of pressure today as she prepared for the final round of the Kentucky Women's Open.  Skapik of Miamisburg, OH held a 7 shot lead over fellow U of L teammate Lauren Hartlage after firing a career round of 64.  Following up a career round with another great round is tough, but add in the pressure of having a great competitor like Hartlage chasing you and it is really hard.  However, Skapik held off  Hartlage to win the 2017 Kentucky Women's Open by 1 shot with a 3-under par 139.
Skapik started her round as if there was no pressure with a birdie on the par 5 first hole.  Skapik gave back a stroke at the par 3 second and then made seven straight pars to finish even par for the front nine.  As expected, Hartlage gave pursuit and gained ground on Skapik with a 2-under par front nine.
The two traded pars for several holes, and Skapik held a five shot lead heading into the par 3 13th hole.  After a bogey by Skapik the lead was down to four.
Both players made pars on 14 and 15 and Skapik held a four shot lead with three holes to go, and she appeared to have things well in hand.  Things did get interesting down the stretch as Skapik bogeyed the final three holes.  Despite the bogies, Hartlage was not able to force a playoff as she was unable to convert any putts for birdie.
Amanda Dixon of Hillsboro, OH finished in 6th place overall, but was the low professional and thus earned the first place prize purse.  Kentucky Golf Hall of Famer Martha Leach finished tied with Dixon and earned the low Mid-Amateur award.  Sara Stephens improved upon her first round and finished tied for 21st and was the low Kentucky PGA Professional.
Notables
2-time past champion Cathy Edlen finished tied for 16th and was the low PGA Professional.  2002 Champion Christine Lindsey finished in a tie for 31st place and the youngest player in the field, 14-year old Grace Clark was 50th.
The Kentucky Women's Open is one of three open championships conducted by the Kentucky PGA.  The championship was first played in 1997 and includes Mallory Blackwelder as one of the notable past champions.
The Kentucky PGA (KPGA) is one of the 41 sections that comprise The PGA of America.  Formed in 1925, the Kentucky PGA has a professional membership of more than 325 men and women professionals across the Commonwealth of Kentucky, each of whom is dedicated to promoting the game in Kentucky.
The Kentucky PGA is dedicated to the promotion of the game of golf and providing ongoing education and professional development of Kentucky PGA Professionals.  Kentucky PGA Professionals are responsible for conducting a variety of golf-related functions, which include general management, golf instruction, tournament operations, golf shop merchandising, junior golf programs, golf club repair, and much more.  KPGA is a founding member of Golf House Kentucky, the umbrella organization that manages Kentucky's Family of Golf Organizations.