Tournament Links: Final Results | Photo Gallery | Video Interview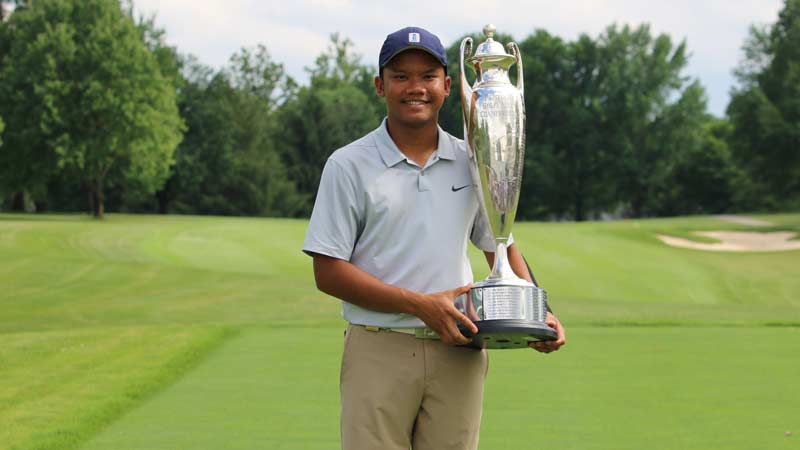 Fadhli Soetarso of Lexington, KY shot rounds of 71-71-71—213 (-3) and defeated Justin Tereshko on the first playoff hole to capture the 2018 Clark's Pump-N-Shop Kentucky Amateur. The 104th edition of the state's premier amateur championship was played June 19-21 at Hunting Creek Country Club in Prospect, Kentucky.
After weather delayed the second round and forced 30 players to finish their round on Thursday morning, Soetarso would begin the final round two strokes behind Matt Liston of Louisville, who fired a round of 67 to take the lead. On a day when players faced wind and rain coupled with thick rough and fast greens, Soetarso stuck to his game plan. He made just one bogey in his final round, and as the tightly packed group of leaders began to fade, Soetarso's steady play quietly moved him up the leaderboard.
Playing in the final group alongside University of Kentucky teammates Matt Liston and Allen Hamilton, Soetarso shot even par on his opening nine, but with Liston playing steady, he still trailed by one heading to the back nine. Making the turn, a total of eight players stood within 4 shots of the lead. However, the final nine holes at Hunting Creek Country Club have played brutally difficult all week, and as many of the leaders, including Liston, suffered bogies, Soetarso stayed the course. A fifty-foot birdie putt on the par-4 13th, a hole which played among the hardest, put him into a tie for the lead.
There isn't much doubt the shot of the tournament was on the final hole in regulation. After a wayward tee shot forced him to pitch out, Soetarso played his third shot on the par-4 18th the front of the green, nearly forty feet from the hole. With Tereshko already in the clubhouse at three under-par, Soetarso needed to make the putt for par to get into a playoff. In front of the crowd of spectators, he hit one of most remarkable shots in Kentucky Amateur history, draining the forty foot putt to keep his hopes of winning alive.
"I was out of position off the tee, I knew where I stood and I knew I needed to make par," said Soetarso. "My wedge shot came up a couple of yards short of where I wanted to land it. I had one putt and I knew what I had to do and I couldn't leave it short. I just gave it my best and let God do the rest."
Originally from Jakarta, Indonesia, Soetarso is a rising senior at the University of Kentucky and a member of their Division I collegiate golf team. He previously won Indonesia's National Junior Championship by eight strokes before starting at UK, and as a freshman, he was an All-SEC First Year Academic Team member.
For Tereshko, it was a near miss as he is still in search of his first Kentucky Amateur title. A 2012 graduate of Transylvania University, he also advanced to the round of 32 in the 2014 U.S. Amateur at Atlanta Athletic Club, highlighted by knocking off current PGA Tour player Xander Schauffele by a margin of 7 and 6.
"The course definitely played tougher than I thought it would have," said Tereshko. "I got off to a bit of a bumpy start with two bogies to start the day. If you would have told me walking off #2 green that I'd be in a playoff, I don't think I would have believed it. I just played solid golf the rest of the way."
Finishing in third place just one stroke back was Fred Allen Meyer of Nicholasville, who shot a final round 69 for a total of 214 (-2). He was able to overcome a triple bogey on the par-4 8th hole with six birdies and a back nine score of 33. Allen Hamilton (Louisville), Chandler Morgan (Lexington) and Corey Teaford (Louisville) tied for fourth at 215 (-1).
Special thanks to Clark's Pump-N-Shop as presenting sponsor of the Kentucky Amateur Championship and corporate partner of Golf House Kentucky, Callaway Golf as presenting sponsor of the Player's Welcome Reception, and Hunting Creek Country Club for their tremendous support of the championship.
Up next for the Kentucky Golf Association is a pair of KGA Amateur Series events at Oldham County Country Club (June 27) and Bardstown Country Club at Maywood (July 2), followed by the KGA Match Play Championship at Gibson Bay Golf Course on July 9-12. More information can be found on the Golf House Kentucky's website at kygolf.org.
About the Kentucky Golf Association
The Kentucky Golf Association (KGA) is recognized by the USGA as the governing body for amateur golf in the Commonwealth.  Founded in 1911, the KGA is a full service golf association comprised of over 180 member golf courses.  The KGA is governed by a volunteer Board of Directors made up of representatives from course across Kentucky. The KGA serves and fulfills many roles for golf in Kentucky.  The KGA is a founding member of Golf House Kentucky, the umbrella organization that manages Kentucky's Family of Golf Organizations.