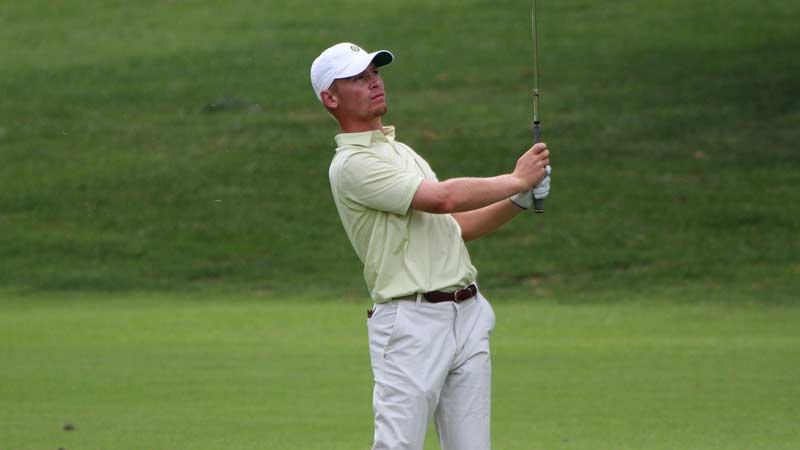 Trevor Johnson (a) of Brentwood, Kentucky followed up his opening round 64 with a 67 to take a one stroke lead heading into the final day of the Kentucky Open Championship. The 99th edition of the championship is being played July 31 – August 2 at Big Spring Country Club's Harmony Landing Campus in Goshen, KY.
Tournament Links: Round Two Results | Photo Gallery
The overnight co-leader, Johnson strung together five birdies in a row and was thirteen under-par for the championship with four holes to play late in his second round. A pair of bogies coming in dropped him to -11, but nevertheless, his two day total of 131 is good enough for a one stroke lead heading into the final day.
The stars are certainly aligning for Johnson, who made an ace in yesterday's opening round on the par-3 13th en-route to shooting 64. He didn't follow it up with another hole-in-one today, but after making five birdies in a row on holes #8-12, a par was all that was needed to keep the round going.
"I made par today [on #13], but it was a cool feeling stepping onto the tee box," said Johnson. "I'm really looking forward to the challenge tomorrow. I think the key will be to remember to stay in the present and to not get too far ahead of yourself."
Trailing Johnson by a single stroke is professional Stephen Stallings of Louisville, who shot rounds of 65-67—132 (-10) and has yet to make a bogey in his first 36 holes.
"I haven't hit it the best the past two days, but I really just kept the ball in front of me and managed my game really well," said Stallings. "For tomorrow, I'm just going to keep plugging away. There's enough birdies out there, so I just need to stay patient, make some pars and stay out of trouble."
A total of seventeen players are within five strokes of the lead, including Ryan Gillum of Grayson, KY, who followed up his first round 67 with a second round 66 to sit just two strokes behind the lead.
"I got really hot on the front nine yesterday and didn't want to have to stop playing," said Gillum, who had to complete his first round this morning after heavy rain forced a four hour delay to yesterday's start. "Fortunately, I picked up right where I left off this morning, finished strong and kept it going in the second round. I feel good with my game plan and just want to take it one shot at a time…and have fun like I always do."
The Kentucky Open dates back to 1920, when it was originally played as a 72-hole championship. It was converted to a 54-hole championship in 1944, and since that point, the lowest 3-day total in tournament history was recorded by Matt Savage in 2006 at University Club of Kentucky (197). A final round 65 for Johnson would break that record.
Making "The Cut"
This year's starting field of 156 players was trimmed to just the low 70 competitors following the conclusion of play on Wednesday. Each year, the lowest 70 competitors, plus ties, advance to play the final round of stroke play on the third and final day. The day began with the projected cut at 142 (Even) but moved to 143 (+1) early in the afternoon before dropping back to 142. At day's end, exactly 70 players made the cut at even par.
Section Representation
Kentucky PGA Members and Associates are well within striking distance. Daniel Iceman of Louisville and Grover Justice, PGA of Lexington are both in a tie for fourth place just three strokes behind the lead. Justice, a teaching professional at High Performance Golf Academy, was the 2017 Kentucky PGA Player of the Year. Iceman, an Associate Member and Assistant Professional at Weissinger Hills Golf Course, is also playing professionally on PGA Tour Canada, where he has made four of the last seven cuts. Jessie Massie, Assistant Professional at Hurstbourne Country Club and Andrew Stephens, PGA of Stephens Golf Academy are both five strokes off the lead at six under-par for the championship.
Amateurs in the Hunt
The Kentucky Open has historically been won by professionals, but an amateur has won the title in eight of the last fifteen years. Last year, Cooper Musselman captured the Kentucky Open as an amateur, and amateur Trevor Johnson has the lead heading into the final round. Four amateurs are in the top 10 (Trevor Johnson, Ryan Gillum, Allen Hamilton and Billy Cason) and all have a chance at capturing the championship.
The final round begins at 8:00 a.m., with the leaders teeing off at 9:50 a.m. Spectators are welcome and live hole-by-hole scoring will be available at kygolf.org
About the Tournament
Conducted by the Kentucky Section of the PGA of America, the Kentucky Open Championship is open to both amateurs and professionals who either reside, work or maintain an active handicap in Kentucky. The tournament tests the state's top golfers over three rounds of stroke play at Big Spring Country Club's Harmony Landing Campus, with the professional champion capturing a winner's check of $10,000.
About the Kentucky PGA
The Kentucky PGA (KPGA) is one of the 41 sections that comprise The PGA of America.  Formed in 1925, the Kentucky PGA has a professional membership of more than 325 men and women professionals across the Commonwealth of Kentucky, each of whom is dedicated to promoting the game in Kentucky. Kentucky PGA Professionals are responsible for conducting a variety of golf-related functions, which include general management, golf instruction, tournament operations, golf shop merchandising, junior golf programs, golf club repair, and much more.  The KPGA is a founding member of Golf House Kentucky, the umbrella organization that manages Kentucky's Family of Golf Organizations.