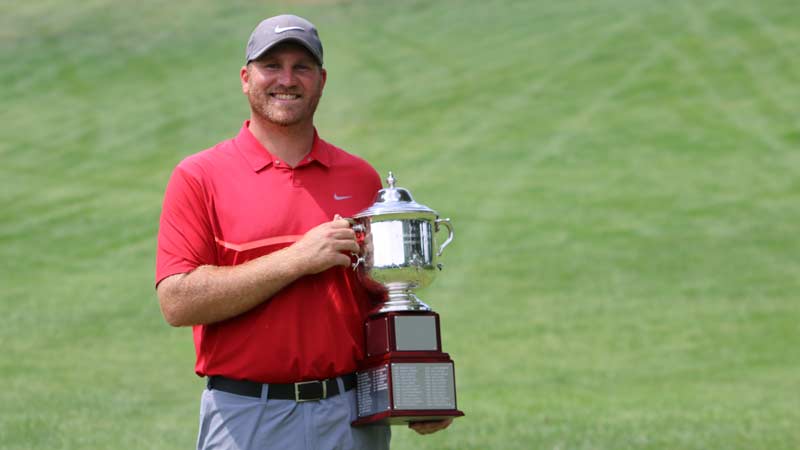 Trey Shirley of Bowling Green, KY shot a final round 62 to charge up the leaderboard and capture the 2018 Kentucky Open. The 99th edition of the championship was played July 31 – August 2 at Big Spring Country Club's Harmony Landing Campus in Goshen, KY.
Tournament Links: Final Results | Photo Gallery
As the final round began under foggy skies, a total of seventeen players were within five strokes of overnight leader Trevor Johnson (a) of Brentwood, Tennessee. Among them was Shirley, whose pair of 68's in the first two rounds had put him in the mix. However, with the amount of low scores already seen throughout the week at Harmony Landing, he knew it would take something really special to have a shot.
He started off his front nine with four birdies and no bogies, which jumped him into contention at ten under-par. But even as Shirley was charging up the leaderboard with birdies on #12, 14 and 15, there were plenty of other players making their move. Billy Tom Sargent (a) of Georgetown made the turn in just 29 strokes to grab a share of the lead. Stephen Stallings birdied #9-12 to jump into the mix, and Matt Liston (a) of Louisville fired a smooth 63 to post the clubhouse lead at -13.
In fact, as Shirley stood on the sixteenth tee tied for the lead, there were a total of eleven players that were either tied or one stroke behind. But as all great champions do, Shirley rose to the occasion and separated himself from the field, making a pair of clutch birdies on his final two holes to finish at fifteen under-par for the championship.
Despite some early struggles, Johnson had a chance to catch Shirley on the finishing stretch. He birdied three of his last seven holes and had a putt on the final hole to force a playoff. But as his putt narrowly burned the edge, the victory for Shirley was sealed.
"I'm just thrilled to be the Kentucky Open Champion," said Shirley, who will have his name etched on a trophy next to names like Byron Nelson, Gay Brewer, Jr., Larry Gilbert and Jodie Mudd. "It hasn't sunk in yet but it's an honor to have my name next to that list of past champions on the trophy. There were a lot of good players here this week, and with so many good up-and-coming players, it really motivated me to work hard on my game."
Shirley is currently playing on PGA Tour Latinoamerica, where he has made the cut in two of his first four events. He has hopes of one day making it to the PGA Tour, and a win today along with the first-place check of $10,000 will certainly go a long way towards making that dream a reality. He made it to the final stage of PGA Tour Qualifying School in 2016, and held Web.com Tour status the following year.
Shirley's final round 62 tied the Harmony Landing course record set by Justin Thomas in 2012. Thomas, who at age 25 has already won eight times on the PGA Tour, grew up and still resides in Goshen, Kentucky. His father Mike is a Kentucky Section PGA Member and has been the PGA Professional at Harmony Landing since 1990.
Although he came up just short, it was a strong showing for Johnson, who earned low amateur honors with his runner-up finish. He will be entering his junior year at the University of Louisville, where he competes on their Division I team.
"The front nine was a little tough, but I stuck with it and stayed patient," said Johnson. "I had a good feeling about today…it's one thing to lose, but when you lose to a 62, all you can do is shake his hand and smile. It's definitely a great way to cap off the summer and I'm excited for the fall season."
The Cardinals Men's and Women's teams have been at the top of the leaderboard recently, as Women's team member Lauren Hartlage captured the Kentucky Women's Open last week in a playoff over teammate Olivia Cason, and recent graduate Molly Skapik earned low professional honors at the event. Along with Johnson, University of Louisville alumni Daniel Iceman finished in a tie for third this week, and also was the low Kentucky PGA section finisher. Iceman is currently an Associate PGA Member and is the Assistant Professional at Weissinger Hills Golf Course.
Along with Iceman, Stephen Stallings (Louisville), Blanton Farmer (Lexington), and Tyler McDaniel (Manchester) all finished tied for third. A total of six amateurs finished inside the top fifteen.
Up next for the Kentucky PGA is the Kentucky Senior Open, which will be held August 13th & 14th at Owensboro Country Club in Owensboro, Kentucky. The tournament is open to senior amateur and professional who have reached their 50th birthday by the start of the championship.
About the Tournament
Conducted by the Kentucky Section of the PGA of America, the Kentucky Open Championship is open to both amateurs and professionals who either reside, work or maintain an active handicap in Kentucky. The tournament tests the state's top golfers over three rounds of stroke play at Big Spring Country Club's Harmony Landing Campus, with the professional champion capturing a winner's check of $10,000.
About the Kentucky PGA
The Kentucky PGA (KPGA) is one of the 41 sections that comprise The PGA of America.  Formed in 1925, the Kentucky PGA has a professional membership of more than 325 men and women professionals across the Commonwealth of Kentucky, each of whom is dedicated to promoting the game in Kentucky. Kentucky PGA Professionals are responsible for conducting a variety of golf-related functions, which include general management, golf instruction, tournament operations, golf shop merchandising, junior golf programs, golf club repair, and much more.  The KPGA is a founding member of Golf House Kentucky, the umbrella organization that manages Kentucky's Family of Golf Organizations.