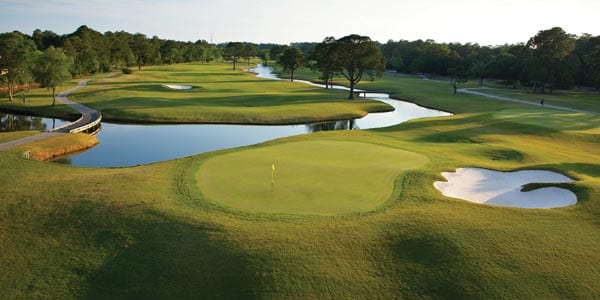 Article by Carey Hoffman
Every golfer knows a straight shot is the simplest, most risk-free choice. So it is with golf destinations, too.
Interstate 65 cuts right through the heart of Kentucky on its way into the Deep South, and eight hours after leaving Bowling Green, it runs out of real estate in southern Alabama, not far from the beach towns of Gulf Shores and Orange Beach, Ala.
It turns out that the region around those communities has an abundance of not just beach sand but also bunker sand.
Gulf Shores and Orange Beach is one of the best emerging outlets for quality golf that won't leave you so poor that you have to sleep on the beach at night. Not that there's anything wrong with that. The beaches have that same powdery white sand that has made Destin and other towns along the Florida panhandle so desirable, sand so soft it practically lulls you to sleep. The Alabama beaches, though, generally also have considerably more elbow room during peak periods than their Florida counterparts. And the golf options are plentiful enough to warrant space in the vehicle for everyone's clubs.
Whatever your preferences and price range, a concierge service called Coastal Alabama Golf can help you sort through the area's nine signature golf courses, as well as all the accommodation, dining and other recreational pursuits you envision adding up to an ideal trip.
A September visit included rounds at four of the area's courses, with each flashing enough of its own style to make them all distinctive.
Peninsula Golf & Racquet Club is 27 holes of classic Southern golf, winding through piney woods, plentiful water and nestling up to the edge of Mobile Bay on a couple of holes. We played the Lakes and Marsh nines. Lakes lived up to its name, with water coming into consideration not just on every hole but on almost every shot. Marsh was more epic in scale, with course architect Earl Stone creating spacious routes against wooded backdrops, most distinctly remembered for a collection of the largest greenside bunkers I can recall on any course in more than 40 years of golfing. They created a trick of perspective, making what in reality were oversized greens look like small targets way off in the distance.
Peninsula is at the eastern end of, well, the peninsula that juts westward more than 15 miles along the bottom of Mobile Bay. As the land grows narrower farther out, you find the course that probably did the most to build the region's reputation as a quality golf destination.
Kiva Dunes is on a spit of land just 1,100 yards wide at its most slender point, meaning airflow above the golf course is influenced by the air exchange coming in from both the Gulf of Mexico and Mobile Bay. Traditionalists relish the chance to play in the wind on a links-style layout, so the appeal of Kiva's site was always there. Kiva Dunes is considered the premier design in the portfolio of more than 30 courses designed by former U.S. Open champion Jerry Pate.
Changeable winds force players to weigh hard choices on club selections and shot shapes. When originally opened in 1995, Kiva Dunes was particularly penal to misjudgments, with steep-faced white bunkering guarding many key targets. In an effort to better suit the resort-type clientele that Kiva draws, Pate was brought back in 2015 and the bunkers were redone, with sod facing replacing the white-sand flashing. Undulation on some of the most severe greens was also reduced.
The result is a gentler course that still features plenty of challenges in the combination of water, wind and sand. The second nine at Kiva is the stronger of the two sides, with the final four-hole stretch starting with the par-5 15th standing out as particularly challenging.
After playing Kiva in the morning, we traveled over to Gulf Shores Golf Club for a quick afternoon nine. The course is a traditional parkland-style layout with plentiful water, of course, and very solid, true-roll greens. Opened back in 1962, it's a mature enough course that even if you get in the trees, there's usually enough clearance to be able to get the ball back in play.
The last visit of our trip was to the 36-hole complex of Craft Farms. The original 18 holes, called Cotton Creek, was designed by Arnold Palmer and opened in 1987 on property that had formerly been a sod farm run by R.C. Craft. Palmer created his own vision with Cotton Creek, but when a second 18 called Cypress Bend was added in 1993, Craft gave his by-then good friend Palmer more input on what he thought worked.
Between them, they got it pretty much right, as the two courses are the only Palmer designs in the state of Alabama and Cypress Bend is the slightly preferred layout of the two, earning 4-and-a-half star status from Golf Digest.
Everything at Craft Farms is as well-manicured as courses built on former sod farmland suggest they would be. The courses are inland, and have a conventional, golfer-friendly feel and look that often defines Palmer designs. The fairways are wide and receptive, and virtually every hole disdains any push to be revolutionary in design in favor of a classic golf look. It is almost like how people felt about Palmer's personality through the years is reflected by the choices he made in course design. Craft Farms is just a pleasure to play.
Once the golfing part of your day is done, Gulf Shores and Orange Beach have plenty more to offer. There's a broad array of quality seafood restaurants, and fishing and beach-combing are popular pastimes. Some members of our group also went on a catamaran cruise back towards Pensacola, Fla., which culminated in seeing the U.S. Navy's Blue Angels flight squadron soar overhead during one of their regular practice sessions. Reports back from that experience were quite spectacular.
Some parting advice on Gulf Shores and Orange Beach – make sure you pick a month for your trip where you will be comfortable weather-wise. Summers can be quite warm and it's prime family vacation time, so the beach is a bit more crowded. They golf all winter in southern Alabama, although it can get brisk during rare cold snaps. Prime season for golf is in October-November in the fall and March-April in the spring. For more information, visit gulfshores.com.