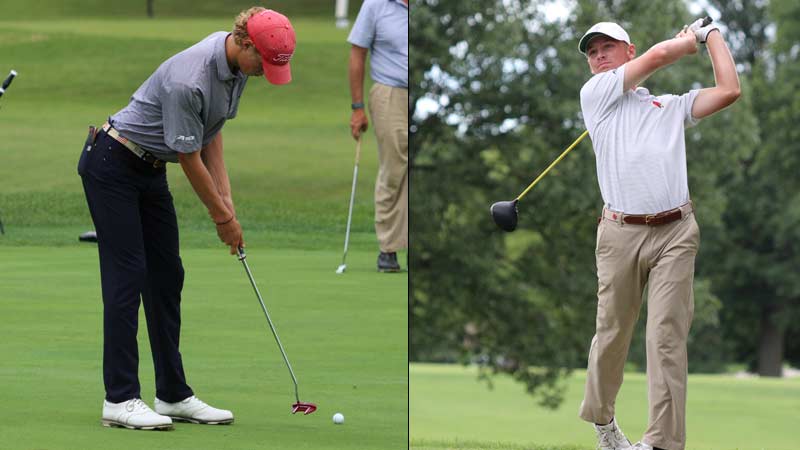 Hayden Zimmerer (a) of Louisville and Trevor Johnson (a) of Brentwood both shot rounds of seven under-par 64 to share the lead after day one of the Kentucky Open Championship. The 99th edition of the championship is being played July 31 – August 2 at Big Spring Country Club's Harmony Landing Campus in Goshen, KY.
Tournament Links: Round One Results | Photo Gallery
After overnight thunderstorms forced the start of round one to be delayed by four hours, Kentucky's top amateur and professional golfers were greeted with ideal scoring conditions. While the morning wave was able to complete play, the afternoon round has yet to complete their opening round. A total of 56 players are currently at par or better, with twelve players within three shots of the lead.
For co-leader Johnson, his day started out slow but got better in a big way. Starting on #10, Johnson began his round with a bogey followed by a scramble up-and-down on the 11th hole. A birdie on the 12th hole brought him back to even-par, but what happened next is something he'll cherish for a long time.
"The 10th hole has always been tough for me and I started out with a bogey there," said Johnson. "I came to the 13th tee and it was 174 yards. I had 8-iron out…the wind picked up and I said 'I think I need the chip 7-iron'. When it went in, I was really surprised, but it was definitely a nice jump-start."
An ace for Johnson on the 13th hole put him two under-par for the championship and he never looked back, making three more birdies and an eagle to shoot a remarkable round of seven under-par 64.
For co-leader Zimmerer, it was less eventful but equally as impressive, as he made seven birdies and no bogies to grab a share of the overnight lead. He strung together four birdies in a row on holes #7-10, vaulting him up the leaderboard. Two more birdies on his way in was good enough for a share of the lead.
"It was a pretty stress-free round for the most part," said Zimmerer. "I had two good par saves but I felt like I was firing at pins all day. My putter was hot, but I just tried to focus on one shot at a time mentally and stay patient the whole day. I've got a lot of positive momentum and great thoughts so I'm hoping to build on the good round I had today."
The pair of amateurs in Johnson and Zimmerer might have stolen the show on day one, but a pair of familiar faces in professionals Stephen Stallings of Louisville and Cody Martin of Fort Mitchell sit just one stroke back. Both Stallings and Martin played collegiate golf at the University of Kentucky and are playing professionally across the country.
Andrew Stephens of Stephens Golf Academy and Adam Gary of Western Kentucky University are the low Kentucky PGA Professionals, along with Kentucky PGA Associate Professional Scott Webb of Gibson Bay Golf Course, all three of which shot rounds of five under-par 66.
While the morning wave of players were able to complete their opening round, most of the 78 players in the afternoon wave have yet to finish their first round. They will return Wednesday morning at 8:00 a.m to resume play of their first round and begin play of their second round.
Among those players still the course but making an early move are Jessie Massie, Assistant Professional at Hurstbourne Country Club in Louisville and Daniel Iceman, Assistant Professional at Weissinger Hills Golf Course. Both players are five under-par midway through their back nine and currently are in a tie for fifth place.
What's in a Cut?
Following Wednesday's second round, the field of 156 players will be cut to the low 70 players, plus ties. Those players will advance to play the final round on Thursday, August 2nd. With just over half the field having posted a first round score, projecting the cut line is a challenge. The USGA recommended method has the early projected cut after round two at 142 (Even par).
Social Media:
In addition to full championship coverage on our website at kygolf.org, players and spectators can join the conversation using the hashtag #KYOpen.
– Like Us on Facebook at Facebook.com/GolfHouseKY
– Follow us on Twitter  and Instagram  @GolfHouseKY
– Championship Photos on our Flickr page – Flickr.com/kygolf
About the Kentucky PGA
The Kentucky PGA (KPGA) is one of the 41 sections that comprise The PGA of America.  Formed in 1925, the Kentucky PGA has a professional membership of more than 325 men and women professionals across the Commonwealth of Kentucky, each of whom is dedicated to promoting the game in Kentucky. Kentucky PGA Professionals are responsible for conducting a variety of golf-related functions, which include general management, golf instruction, tournament operations, golf shop merchandising, junior golf programs, golf club repair, and much more.  The KPGA is a founding member of Golf House Kentucky, the umbrella organization that manages Kentucky's Family of Golf Organizations.